If you're a Crawfordsville local, you may have seen signs around town with a big drawing of the Study and the phrase "Making A Historic Difference." You might be wondering why we're trying to raise $300,000 and what we're going to do with that money. We're going to have a series of posts on our blog about The Making A Historic Difference Campaign so you find out why we're so excited and, hopefully, get excited along with us.
Lew's fresco
Ella Kostanzer was raised in Montgomery County and was teaching in Chicago when she visited Lew in his Study on January 1, 1900. She described a fresco painted inside the Study dome. An elaborate work of trompe l'oeil,
"The border around the skylight is handpainted, designed by the owner. It consists of implements of warfare in groups chained together. We see the shield, helmet, sword, bugle, breastplate, etc…" – Ella Kostanzer
Fast forward to 2011. Workers at the General Lew Wallace Study & Museum were in the midst of their Study Restoration Project designed to address structural deterioration and water damage inside the Study building. With the Study emptied of artifacts, it was an ideal time to have a paint analysis done.
After analysis by Matthew Mosca of Baltimore, we contacted Brian Fick and Mary Yeager of Acanthus Arts in Indianapolis. Thanks to their hard work, Lew's fresco was partially uncovered.
That's great, but why are you asking for money?
Well, one of our goals here at the General Lew Wallace Study & Museum is to present the Study as close as possible to the way it looked when Lew used it. With very few exceptions, we have accomplished that. One of the exceptions, however, is the interior paint.
Except for the one corner of the interior paint uncovered by Acanthus Arts, the Study is decorated with paint put up in the 1990s. Not only is that historically inaccurate, but it's just not as dramatic as the paint decorations Lew had. We want to bring back the paint conservators and have them uncover all of the interior paint.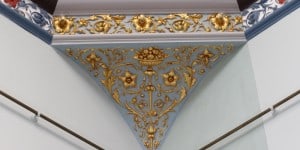 On top of that, we can't turn on the lights in the main room of the Study.
Lew had electricity in the building. Crawfordsville was one of the first cities in Indiana to be electrified. Lew was a wealthy man, and he spared no expense in creating this "pleasure house for [his] soul". The main room of his Study had almost 100 light bulbs in it. But the wiring in many places still dates back to the 1890s. No one wants to be responsible for burning down the Study, so we rely on natural light from the skylight. But we'd love to update the wiring so we can light the Study for evening events.
It'll be a lot of work, and it'll take a lot of money. The Jeffris Foundation of Wisconsin has generously awarded us a $100,000 grant, but we have to match that with $200,000 in funds we raise.
So this is where you come in.
We know you're a dedicated supporter of our museum and mission. After all, you read our blog, and you might even be a member of the Lew Wallace Study Preservation Society. But right now we need a little bit more from you.
Yep, you guessed it, I'm about to ask you for money.
But we'll save that for next week. I want you to take some time to browse our website and Flickr account. Take a look at the pictures we have of Lew's amazing fresco and interior paint. Read the articles written for this blog in 2011 while the original paint analysis was being done. Then next week, when you're still on a sugar high from Halloween, come back to the blog and we'll talk about how much we've raised so far and how far we have yet to go.