Lew Wallace's 1881 appointment as US Minister to the Ottoman Empire provided him with many opportunities to travel in Europe, Asia, and Africa. Today I'll be focusing on the Wallaces' travels in Europe.
Traveling to Europe
On their way to the Ottoman Empire, Lew and Susan arrived at Queenstown, Ireland, on July 4, 1881. Continuing on to Liverpool, England, they stayed briefly at Maxwell's. From there they went by train to London and stayed at Langham's. Sightseeing in London included Buckingham Palace, the Turner Art Gallery, Trafalgar Square, the Tower of London (the crown jewels), the White Tower (the collection of weapons and armor), and Westminster Abbey.
Strangely enough for a country controlled by Queen Victoria, women were not permitted to visit Parliament. Lew had to go by himself. Nevertheless, Susan described England as a beautiful country and wrote to her son, Henry, "Everything here looks so solid, so old, and well built, as though made to last."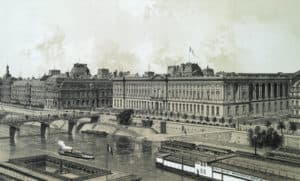 Next they stopped in Paris. They stayed near the Arc de Triomphe. At the time, neither was conversant in French. Lew declared the time there the "longest two weeks I have ever spent." Joining a Cook's Tour, they finished the stay in France on a more pleasant note. They visited Napoleon's Tomb, the French palaces, Notre Dame, and the Louvre. On July 14, they saw the Bastille Day Parade.
Travels in Italy
By October of 1883 the Wallaces were ready for a break from Lew's diplomatic duties. They took a two-month leave to travel around Europe. They visited Venice, Rome, Campagna, St. Peter's Cathedral, and Keats' grave.
Lew and Susan had friends in Rome. They visited Randolph Rogers, an old friend. Rogers, a sculptor, had served on the General's staff at Cincinnati in September of 1862. Rogers had created a bust of Lew Wallace that still resides on the fishing cabinet in the Study. To their dismay, they discovered that Rogers had suffered a stroke in 1882 that left him paralyzed. The Wallaces also visited Thomas Crawford's studio at Palazzo Altemps. There, they became friends with his author son, Frances Marion Crawford.
They also visited with sculptor and writer William Wetmore Story and his wife Emelyn at the Palazzo Barberini. The Storys held gatherings that were recognized as literary salons, and it was here that Lew and Susan Wallace met Robert Browning. By December 17, 1883, after an extremely stormy sea voyage, they were back in Constantinople.
Trip Home via European Railroad
In early 1884, Lew obtained a six-month leave. He and Susan departed Constantinople on May 13, 1884. They had not been home in three years.
This time they traveled by railroad, leaving from Varna on the Black Sea. They traveled across Europe via Vienna, Dresden, Cologne, and Calais. At Calais they boarded the Cunard ship Gallia. They arrived in New York on June 23.

As we've noted before
, Susan Wallace was suffered dismally from seasickness. She elected not to return to Turkey. On November 22, 1884, after spending two days in Washington, D. C., consulting with the secretary of state, Lew sailed alone for Constantinople on Inman's
City of Chicago
.
Crossing Europe by railroad again, Lew spent two days in Berlin. He visited Unter den Linden, which he called "magnificent," and the National Gallery, which by contrast was "a dismal failure." He proceeded on to Dresden and Vienna where he heard Johann Strauss conduct and visited the Ringstrasse. He sailed from Varna to Turkey and arrived in Constantinople.