Every now and then I'll have someone ask me questions to which I don't have the answers. I always do my best to find out, but sometimes I don't find the answer until the visitor is already gone. Today I want to answer a few visitor questions I've been asked lately.
What is this pedestal made out of?

This is an onyx pedestal from Rome, pale green with gold and white marbling.  It has seven metal rings around it. The pedestal stands in the mechanical room of the Study building, where our Ben-Hur exhibit is located.
Were the bricks around the inglenook painted?
No. The bricks were made that color, which is also used as an accent color on the outside of the Study building.
How tall was Lew Wallace?
According to his hunting license, he was 5'10".
What is this chunk of rock?

This is a piece of turquoise. Our records suggest Susan might have used it as a paperweight. You'll find it in one of the display cases on the south wall of the Study.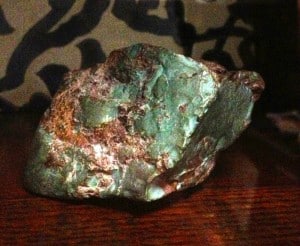 Anyone else have any visitor questions? I love doing research to find the answers to these questions. I always tell people I learn things from our visitors just as often as they learn things from me! Chime in in the comments and play "stump the museum girl!"