Lew Wallace and his brother William each married women from prominent families. These marriages brought prestige, money, and important Hoosier connections to the Wallace family. They were not, however, the only sons of David Wallace to marry well. David had six children with his second wife, Zerelda. Three of these children died in childhood. David Jr., their only surviving son, was born in 1852. He married a woman of prestige with connections far beyond Indiana.
David Wallace, Jr.
Historical research sources generally contain more records on men than women. In the case of David Wallace, Jr. however, his wife who is much better recorded. In 1870, census records list eighteen year old David, Jr. as a baggage master for a railroad in Indianapolis. Ten years later, he lived in the home of his sister Mary Wallace Leathers with his mother, Zerelda. At that time, he worked as a transfer agent for an Indianapolis railroad.
Zelda Harrison Seguin
Zelda was one of the most famous opera singers of her day. She made her stage debut at a concert in Saratoga in 1865 at seventeen years of age. She sang popular songs of the day for the performance. A contralto, Zelda became known as the Gypsy Queen because of her tremendous success in the opera "The Bohemian Girl." Among her accomplishments on stage, she introduced the role of Bizet's "Carmen" in English to the opera world in a performance in New Orleans and in her last New York appearances in 1886 she performed in "The Mikado."
Zelda's Early Career
Born in 1848, and a native of New York City, Zelda Harrison possessed a remarkable voice. Her parents placed her under the tutelage of Mrs. Anne Seguin, one of the most important opera teachers of the late 19th century. During her time studying with Anne Seguin, she met Anne's son Edward Seguin, Jr. Edward, an opera singer, trained at the Conservatoire in Paris and the Royal Academy in London.  Edward toured in America after his return from Europe in 1860.
Despite a ten year age difference, Zelda and Edward fell in love and married in 1867. Together Edward, Jr. and Zelda performed throughout the county. In the 1870s, they had a son they named Edward S.R. Seguin.
Edward Seguin
Zelda's husband, Edward, emulated his father, one of the most popular performers of his day. Edward taught Zelda about makeup, stage presence, and acting. In 1877, Zelda performed at a New York Press Club entertainment held in Steinway Hall. Guest guest speakers at the event included Mark Twain. The papers singled out Zelda in coverage of the evening with the following:
Mrs. Zelda Seguin, a favorite among favorites, not only with the journalistic fraternity, who have always expressed good wishes for her success, but with everybody else possessed of taste and feeling, raised a whirlwind of applause by her singing of Hullah's "Storm." The excitement could not be stayed by anything less than a ballad, and the lady sang a pretty little Irish song–"I wrote my love a letter."
Edward also helped manage Zelda's career by selecting parts she would and, just as importantly, would not sing. For instance, he would not let her perform in Wagnerian operas because he felt Wagner's work did not suit the range of her voice. Under his tutelage, Zelda Seguin became internationally famous and, like her in-laws, was especially known for performing operas in English that were traditionally performed in Italian or French.
Edward's Death
In early October of 1879, Edward died suddenly of heart disease in Rochester, New York at the age of about 42. Stricken three weeks earlier in Jersey City, he didn't consider the illness serious as he thought he was having an asthma attack and continued to travel with his wife and other performers. Zelda did not perform the evening of his death and accompanied her husband's body back to New York. However, the show had to go on. In spite of their grief, the rest of the cast and crew performed as scheduled at the Grand Opera House in Rochester.
Zelda Harrison Seguin Meets David Wallace, Jr.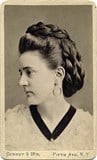 The beautiful widow and famed performer met David Wallace, Jr. in February of 1880, at the home of a mutual friend in Indianapolis. At the time, David worked as Master of Transportation for the Indianapolis-Terre Haute railway. After a "season of bouquets and correspondence," David went to New York to propose. Within ten months of her husband's death, Zelda and David married at St. Luke's Church in Baltimore.
Agnes Wallace Steiner, David's sister, joined him. In a detailed description of the ceremony, the news account made note that "Diamonds were the jewels" worn by the bride.
The quiet service received wide discussion as it was a distinct surprise to many of her friends. This marriage cost Zelda a small fortune because her mother-in-law, Anne Seguin had revised her will just weeks after her son's death. The will left Zelda $20,000 in cash to be held for her benefit provided she not remarry. With her marriage to David, she forfeited the money.
Records indicate that Zelda and David, Jr. had a son in October of 1881, who was also named David, but it appears this child died within a year. Census records in 1900 indicate that David and Zelda may have had one more son born in 1891, but the name and fate of this child is unknown. In these records from 1900, David and Zelda are living in Indianapolis adjacent to the prominent Claypool family.
Married Life
After her marriage to David, it appears that Zelda left New York behind and Indianapolis, where David had his railway jobs, became home. Zelda became a part of the social scene in Indianapolis in the early 1880s. She also provided musical performances for receptions and events sponsored by her mother-in-law, Zerelda Wallace, in support of suffrage. At her first meeting with Zerelda, Zelda confirmed that she believed firmly in women's rights. She had been a working woman all of her life. While she did not speak widely on the issue, when questioned, she " . . . she expressed her opinion with an effective eloquence as charming as her marvelous voice. To hear her sing you would think she was made for that alone; to hear her talk you would wonder at the naturalness of manner and clear, unsullied, mind."
Zelda's Career Ends
After Edward's death and her marriage to David, Zelda resumed performing throughout the country. Her last operatic performance in New York was in 1886. After that, she continued to sing in important venues across the country. In 1895, Zelda was badly injured in a train accident when a train she was on jumped the tracks as it rounded a curve near Coatesville, Indiana. Two people died. Although among the most seriously injured, Zelda recovered. As her professional career ended she still supported favored charities with small programs.
David's Death
The 1910 census listed David's occupation as manager of a motor company in Indianapolis. At the time, the couple lived on prestigious North Delaware Street—although perhaps in an apartment rather than a detached home. Zelda experienced great tragedy in 1911. A storage fire destroyed all of the costumes and memorabilia from her storied career. To add to her burden, David died in May of 1911 at the age of 59.
Shortly after David's death, Zelda made a much-publicized return trip to New York to visit her son, Edward, and two grandsons. In newspaper interviews, she reminisced about famous people she had worked with, productions she had performed in, and trends she had seen in opera during her career. These interviews describe the 63-year-old Zelda as still a young woman in thought, action, and manner of speech. Friends who came to call on her found her very much like the Zelda Seguin of old.
Zelda Harrison Seguin Wallace Dies
Just three years later, Zelda passed away at her home in Indianapolis in February of 1914. The press remembered her great stage career with small mentions. However, Mrs. Robert Louis Stevenson's death on the same day eclipsed Zelda's mentions. David and Zelda are buried together very near his father and adjacent to his uncle, Richard Gatling, in Crown Hill Cemetery. Zelda Harrison Seguin Wallace stood out in a family of accomplished men and women.
---
Sources:
www.music.library.wisc.edu
www.nytimes.com
Census records 1860-1880, 1900, 1910
www.clerkandthecity.pastispresent.org
www.twainquotes.com
Aurora Daily Express, September 17, 1883
Thanks to Erin Gobel and Roger Adams